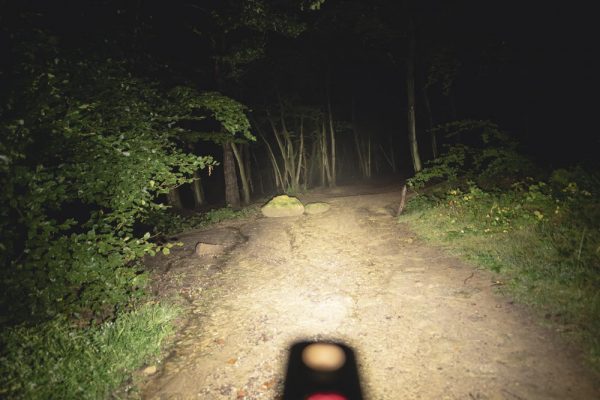 Verdict:
"We tested the Ravemen PR1200 bike light for the first-time last year, and since then the company has upped the power by 30 per cent and revamped the internals. As the name suggests, this light is packing 1,600 lumens. There are two buttons on the top, the larger of the two is the on/off switch that also lets you access two modes – road and mountain bike. The former just means one lamp is working and, with the latter, you get two. The smaller button lets you toggle between the different light modes, which is 400, 800 and 1,600 lumens in MTB. A small display on the top of the light syncs the run time to the output, although we found the stated run time in the instructions different than the display."
"The PR1600 charges with a Type-C USB cable, meaning you can even top up in the car on the way to a ride. There's also a second USB port on the back of the light, and Raveman says you can add a hop-up fuel cell to extend the run time, but oddly it doesn't actually offer this as an option."
"The Ravemen's beam pattern is smooth and incredibly even – there's a diffuse lens for close-in work and spot beam to throw the light down the trail – but the light does have a slight orange tinge, so it's not as crisp on the detail. The PR1600 offers a lot of lumens for your money, but it doesn't last, which is why we think it'd be more effective as a helmet light, especially since it has a bar-mounted remote, which allows you to switch light modes quickly on-the-fly."
For full review, please click here.